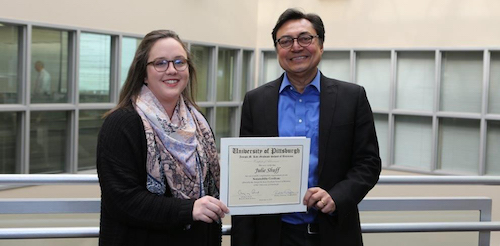 Congratulations to Julie Shuff for earning the first Sustainability Certificate issued at Katz, pictured here with Prof. CB Bhattacharya.
Any Katz student is eligible to pursue the Katz Graduate Certificate in Sustainability in addition to their declared degree program. This 10.5 credit certificate guides students to act as ethically responsible leaders. Students learn how companies manage their social (people), environmental (planet), and financial (profits) risks, obligations, and opportunities to positively impact both stakeholders and financial well-being.
Total credits: 10.5
Required Courses (Tier 1)
There is one set (tier) of required courses for the certificate that constitute 4.5 of the 10.5 total credits students must earn. Students must complete both of the required Tier 1 courses (4.5 credits) to earn the certificate. View a full course description by clicking on the course title.
BSEO 2578 Sustainable Business Strategy
Instructor: CB Bhattacharya, H. J. Zoffer Chair in Sustainability and Ethics, and Professor of Marketing and Management
BSPP 2328 The Business of Humanity®: Strategic Management in the Era of Globalization, Innovation, and Shared Value
Instructor: John C. Camillus, Donald R. Beall Endowed Chair in Strategic Management
Elective Courses (Tier 2)
The remaining 6.0 credits required to earn the certificate should consist of approved electives. The set of proposed electives includes existing graduate level courses at Katz and within other departments at the University. Students wishing to receive credit toward the certificate for an elective not included on this list must seek approval from the appropriate graduate administrator at Katz. Graduate level courses not pre-approved for the certificate (any courses not named below) will only be approved if the content covered in the course is directly related to sustainable business management. View a full course description by clicking on the course title.
BSEO 2033 Managing the Natural Environment
BSEO 2012 Social Entrepreneurship: Inclusive Innovation and Urban Economic Development
Instructor: Paul Harper, Clinical Assistant Professor of Business Administration
BSEO 2509 Business and Politics
Instructor: Barry Mitnick, Professor of Business Administration and Professor of Public and International Affairs
BENV 2115 Market Manipulations
Instructor: Barry Mitnick, Professor of Business Administration and Professor of Public and International Affairs
BOAH 2456 Managing Offshore Outsourcing
BOAH 2551 & 2552 Project Course in Organizational Leadership
Instructor: Nisha Nair, Clinical Assistant Professor of Business Administration
PIA 2164 Natural Resource Governance and Management
PIA 2522 Political Economy of Climate Change: Local & Global
PIA 2552 Managing Organizations in Development
PIA 2502 Political Economy of Global Environment 
ENGR 2905 Current Issues in Sustainability
Our Corporate Sponsors