January 24, 2020
The premise of this article is that having a higher purpose can help firms improve their sustainability performance as well as their financial performance. This article was also picked up by Fast Company.
---
January 17, 2020
In CB Bhattacharya's webinar, "Small Actions, Big Difference: Why All of Us Must Take Ownership of Sustainability to Save the World," he explores "sustainability ownership" and what it means to create an organization of sustainability generalists.
---
January 8, 2020
CSB Associate Director Leslie Marshall and PPG VP Mark Cancilla appeared on TechVibe Radio to discuss the Center and why corporations are joining.
---
January 6, 2020
CSB Director CB Bhattacharya sat down for an interview with Knowledge@Wharton, the business journal for the Wharton School of the University of Pennsylvania.
---
December 29, 2019
CSB Director CB Bhattacharya joined Bill Flanagan to discuss the concepts in his book Small Actions, Big Difference.
---
December 9. 2019
CSB affiliate Prof. Barry Mitnick wins the Aspen Institute 'Ideas Worth Teaching Award' for his course "Market Manipulations: Crises, Bubbles, Robber Barons and Corporate Saints."
---
December 2, 2019
Mike Gordon, Doctoral Candidate in Business Analytics and Operations, won a Mascaro Center for Sustainable Innovation Conference Grant to attend the 2019 INFORMS Annual Meeting in Seattle, WA.
---
December 1, 2019
Vice President of Corporate Environmental Affairs, Wayne Balta, explains why IBM supports the Climate Leadership Council's plan to put a tax on carbon.
---
November 8, 2019
Due in part to the CSB's focus on sustainability, Katz rose 33 places in Corporate Knights 2019 'Better World MBA' rankings.
---
November 1, 2019
On October 24, 2019, the CSB hosted our official launch event, bringing in over 100 leading professionals.
---
October 18, 2019
Peoples is making Pittsburgh International Airport the first major airport to be completely powered by its own microgrid with the use of its own on-site natural gas wells and solar.
---
October 12, 2019
Professor CB Bhattacharya, H.J. Zoffer Chair in Sustainability and Ethics, has just released a new book, Small Actions Big Difference, which focuses on leveraging corporate sustainability to drive business and societal value. It is his third book on the subject of corporate sustainability.
---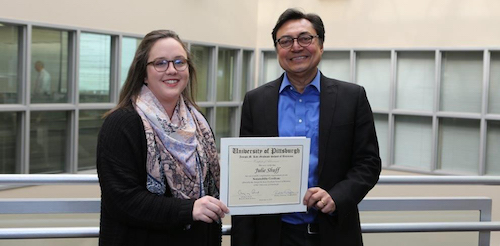 December 2, 2018
MBA student Julie Shuff earned the first Sustainability Certificate to be issued at Katz. Professor CB Bhattacharya (right) presented Shuff with the Certificate.
---
October 23, 2018
Professor CB Bhattacharya was honored to deliver the Provost's Inaugural Lecture: "Small Actions, Big Difference: Leveraging Corporate Identity, Responsibility, and Sustainability to Drive Triple Bottomline Value."
---
March 23, 2018
A team of Katz students won first place at the 2018 University of Connecticut MBA Sustainability Case Competition.